Are you suffering from having no padding on the heel or ball of your feet?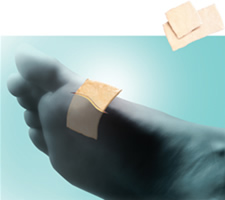 Fat pad augmentation is the answer to your painful feet. The loss of padding to the feet can be the result of chronic injuries, previous surgeries or injection or just part of the aging process for active people. Without padding you feel like you are walking on rocks or stones all the time. Imagine walking barefoot on sharp, small pebbles. That's what it feels like.
Technological Advances
For years, researchers and surgeons have sought to find a solution for this. Fat transplantation, silicone injections, collagen injections and silicone pads had been tried, but yielded very temporary results. Recently, Wright Medical, Inc. developed Graftjacket and received FDA approval for fat pad reconstruction and augmentation. Hundreds of recipients of this graft have attained exceptional results empowering them to return to a life of pain-free activity.