Expertise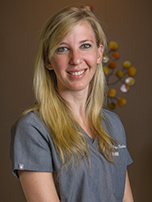 Dr. Megan Barlow is an experienced surgeon and podiatric physician who Graduated from Midwestern University School of Podiatry. She completed her residency training at the Phoenix Veterans Administration's Podiatric Residency Program where she completed a three-year intensive residency specializing in treatment of complex wound repair, foot and ankle reconstructive surgery, highrisk diabetic foot care, and general podiatric medicine. During her residency, Dr. Barlow was additionally trained by Dr. David Lee for specialty surgery in Restorative Foot Surgery techniques for pediatric and adult reconstructive foot surgery.
Prior to her podiatric career, Dr. Barlow was a Habitation and Respite provider for children with special educational needs after graduating from Arizona State University with dual degrees in biological science and sociology.
Credentials
Board Certified by the American Board of Podiatric Medicine
American College of Foot and Ankle Surgeon's Arthroscopy Certification
Associate of the American College of Foot and Ankle Surgeon's
Doctorate in Podiatric Medicine, Midwestern University, Glendale, Arizona
Bachelor of Science in Sociology, Arizona State University
Bachelor of Science in Biology, Arizona State University
Interests
Rockclimbing
Scuba diving
Mineral specialist
Coin collector
A Message from Dr. David Lee…
Dear Friends,
I have personally known and worked in the operating room and mentored Dr. Barlow for several years. She is a vibrant, caring and extremely intelligent clinician with the rapport and bedside manner comparable to a well-honed clinician well beyond her years. Because of her skill set and excellent communication abilities, I feel honored to have invited Dr. Barlow to join me at Arches Foot Institute where I know she will treat my patients like beloved family members. I know her heart and desires to be the best podiatric surgeon and physician. I am confident that you will love her caring and compassionate treatments for your foot and ankle conditions.
My Best Wishes,